Roseola and Homeopathy (Human Herpes Virus 6 (HHV-6)
Homeopathic remedies will help a child with symptoms of roseola. Contact us to learn more!
Click Here to Buy Remedies and Supplements from Homeopathic Remedies Online Store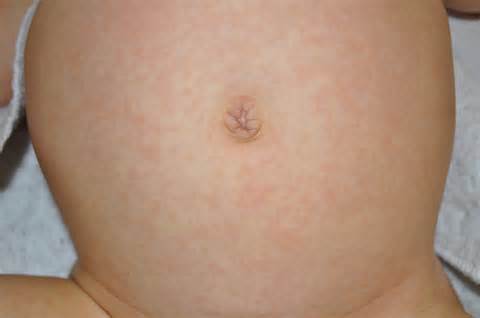 Roseola is primarily a childhood disease that typically occurs in the first two to three years of life. It typically presents with a sudden onset of a high fever that then is followed by a rash. Most often is effects infants and children. About 30% of the children in the USA get roseola between aged 6 month and 3 years.
What Causes Roseola
Roseola is caused by the Human Herpes Virus 6 (HHV-6). Although still not known exactly how the disease is spread, it may be spread by saliva
What is the Incubation Period for Roseola?
Usually begins with a sudden high fever (103° to 106° F), which usually lasts three to four days.
Your child will most likely remain alert in spite of the fever.
Rash appears as the fever goes away and lasts three to four days.
There are rose-colored bumps two to three millimeters in diameter.
The rash usually appears first on the trunk of the body.
It may spread to the neck, arms, and legs but rarely to the face.
Seizures may also occur without the rash. Seizures happen in 5 to 35% of all cases of roseola. These will not cause brain damage, and they usually go away when the fever goes down.
Breathing problems, ear infections, and diarrhea occur in about half the cases.
Homeopathic Remedies for Roseola
Keep the child well hydrated
Give sponge baths to keep comfortable.
Give your child plenty of rest, naps and sleep