Homeopathy for Rubella (German Measles)
Homeopathic remedies will help a child with symptoms of rubella. Contact us to learn more!
Click Here to Buy Remedies and Supplements from Homeopathic Remedies Online Store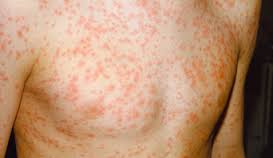 \
What Is Rubella - German Measles
Homeopathic Remedies for Rubella (German Measles)
Aconite
This remedy is for sudden onset of a rash with a fever. The children are usually very thirsty. Aconitum is only appropriate during the initial stages of this illness.

Belladonna
Sudden onset of high fever with a flushed face and reddened lips. Fever is a dry heat, without perspiration.

Pulsatilla
Chill with their fever. Worse in warm rooms and by warmth. Desire open air but need to be properly covered. Thirstless and have a flushed red face.