Hypericum perforatum (Hyper.)
(St. John's Wort)
Click Here to Buy Remedies and Supplements from Homeopathic Remedies Online Store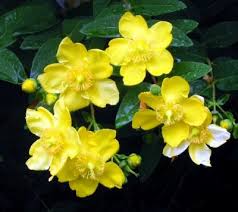 Hypericum is used for injuries to nerve rich areas and the spine.

It acts as a painkiller for injuries to parts rich in nerves (Ledum).

For sharp, shooting nerve pains.

Pain is shooting upward, along the nerve.

Ailments from punctured wounds, lacerations, bites of animals.

Prevents tetanus (Ledum).

Used after operations.

Hypericum is very helpful for toothaches, injury or trauma to the teeth.

Use it for ailments after dental procedures.

Use before and after dental procedures or dental surgery.

Back injuries to spine, coccyx (Sil).

Pain shoots up the spine and down limbs. Injuries to finger tips or toes.

Needle or splinter, under nail, in finger or foot sole (Ledum). Convulsions after injury, esp. to spine, head (Nat-s).

In women, it is very useful for after-pains after instrumental delivery in childbirth and for a bruised coccyx after labor.
Poem About Hypericum
Hypericum, I've given you
To those with shooting pains
You really have a way with nerves
With injuries you're famed
Consider it for punctures
Where nerves are passing through
It may be used for Tetanus
Preventing it to brew
I find it interesting to note
St. John's Wort is now the rage
For depression it is taken
The tincture of our age
Depression follows injury
This is often true
And if the pain shoots up the limb
Hypericum's for you!
from Materia Poetica by Sylvia Chatroux, M.D.
Hypericum Perforatum: Homeopathic Medicine - Tips For Beginners


(6:26 minutes)