Androctonus - Androctonus amoreuxi herbraeus
(Androc.)
Click Here to Buy Remedies from Online Store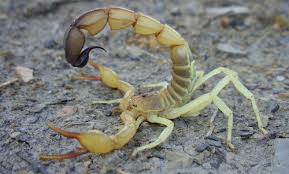 This homeopathic remedy is useful in Alzheimer's, Autism, ADHD, PANDAS and other neurological disorders, along with other important polychrests.
Violence, abusiveness. Mischievousness, suspiciousness and quick to act.

Changeability and a prevailing sense of duality is a predominant feature of this remedy.

The person's nature oscillates between feeling like an angel and a devil alternately.
Depressed and destructive, did not care if things were broken.
Averse to his normal work, wanted to quit and avoid work.
Felt disconnected from the human race, as if everyone were another species. Directionless.
Totally detached - not from self but from surroundings.
Very changeable moods, one moment extremely friendly, nice and amiable, then irritable.
Felt constrained and had a gloomy approach to everything, averse company, desire to be alone.
Feels like people will not want to talk or be with them
Terrible uncontrollable temper.
Can't avoid shouting at people they are intolerant of, cannot hide their feelings.
Assertive, impatient, aggressive.
Felt resentful and abused. Had no control over temper.
Desire to break things.
Short tempered in afternoon, easily excited to anger, worse from being interrupted.
Became excited to anger and confrontation. Not aware of hurting others' feelings and did not seem to care.
A child or an adult who tends to swing wildly from a stable good mood to a destructive mode can be calmed down or evened out by Androctonus.
Children also exhibit behaviors of suspiciousness and quickness to act on their compulsion.
Hypersensitivity to sound
Sense of rhythm; restlessness
Tendency to prefer eating light, raw things
Preference for heat
Dramatic, hysterical, "showy" behavior
Nervous habits such as trichotillomania

(TTM), also known as hair pulling disorder

and thumb-sucking
Malicious, violent behavior
Great creativity such as building marvelous inventions, etc.
Theme Of Androctonus Remedy:
The Androctonus personality has intense anger, violence, emotional detachment, abusive, destructiveness.

Dominating, competitive and aggressive.

They respond to danger with immediate fight or flight. High tension, fear, and fright in which the instinct for self-survival overpowers them.

Can become cruel, compassionless, lose interest in usual occupations, and lose clarity of expression to communicate their emotions and feelings clearly.

They can feel apathetic, despondent and detached about most things.

They can feel anxiety about their health as well as generalized anxiety.

Because they have an inner understanding that this is not their true state of being, they can feel anxiety of conscience in not being able to be compassionate about their families, school, jobs and other things.