Sabina (Sab.)
(shrub called savin)
Click Here to Buy Remedies and Supplements from Online Store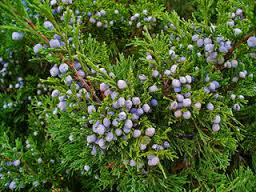 Has a special action on the uterus

Acts on the uterus.

Profuse uterine bleeding. Bright red blood with large black clots.

Pain from sacrum to the pubis.

Hemorrhages, where blood is fluid and clots together.

Cramping pains.

Worse from motion, but sometimes better walking (menses only when lying down).

Also has action upon serous and fibrous membranes.

Tendency to miscarriage, especially at third month.

Violent pulsations

Wants windows open; better in cool fresh air.

WORSE from least motion.

WORSE from heat.

WORSE from warm air.

BETTER, in cool fresh air.