Watch Videos To Learn About Homeopathy!
Members of the
National Center for Homeopathy

Homeopathy is a 200 year old medical system that is proven to be clinically effective.
All homeopathic remedies are FDA approved, regulated and manufactured under strict Homeopathic Pharmacopeia guidelines.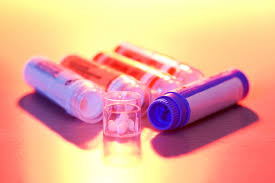 Lyssin (Hydrophobinum) (Lyss.)

(rabies nosode)
Read More About Nosodes
Nosodes are powerful and deep acting. This nosode should not be taken without the professional guidance and supervision from a Homeopath trained in it's use. We also recommend it be dosed using the advanced water dosing methods.
This nosode is made from rabies.

People who need Lyssin often feel teased and tormented and react violently.

They are known for their violent rages with quick repentance.

They feel tormented in their place of security.

They try to apologize after their rage so as to maintain the relationship with those people on whom they are dependent.